Our Founders' Entrepreneurial Journey
Founded by the Van Wyk brothers and their close friend George Karageorgiades in 2000, PaySpace – through its cloud-based software – addresses the challenge of managing HR and payroll in Africa. The business started out in a living room (where it ran for a couple of years) and was bootstrapped from the start, allowing the founders to retain 100% ownership. PaySpace has since grown tremendously and now operates in 37 African countries. This year they announced an integration with cloud accounting software Xero.
Why did you start your business?
Clyde: With cloud being a fairly new concept at the time and with the inefficiencies in the payroll market, we saw a need for an easy to use online payroll product that could deliver an end to end solution to all targets in the payroll industry.
George: To generally be the master of my own destiny and to directly benefit from a legacy that I'm contributing towards, as well as obtain personal and financial freedom.
Warren: Our father started his own IT software business and as a result he was a big influence as to the benefits of starting a business and making it successful.
Bruce: For financial freedom and the ability to choose which experiences in life I wanted to have.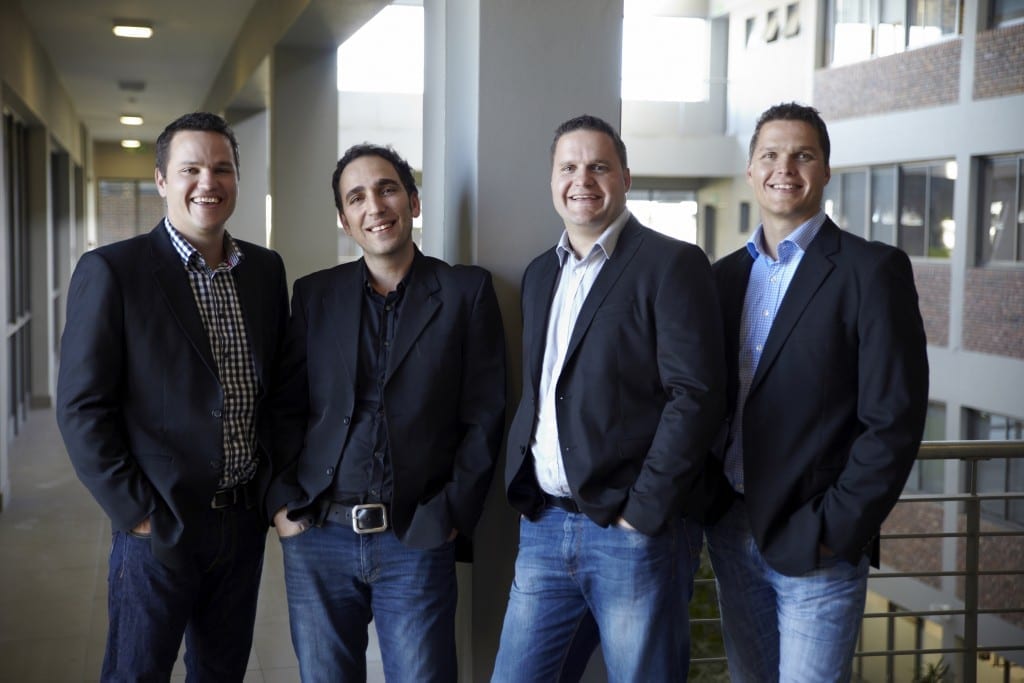 From the left:  Bruce van Wyk, George Karageorgiades, Clyde van Wyk & Warren van Wyk
What was the most challenging part of the first year?
Clyde: Not having a brand name that people trusted and convincing them to move their sensitive data into the cloud.
George: Balancing our self-funding approach in non-core delivery with focusing on the proper targets, all in a 24-hour day.
Warren: The practicality of planning and building a software solution without having the funding to support us. We had to think out of the box and eventually had to keep our "day" jobs to fund our "night" job which was building a software solution.
Bruce: Putting in the time to start the business after hours and working late nights, often well past midnight.
Did you always know you wanted to run your own businesses or did you get into it by chance?
Clyde: We always wanted to run our own business
George: There was never a doubt in my mind, it was a matter of "when" not "if".
Warren: We always knew we wanted to run our own business, it was just a matter of timing as to when we would realize this dream.
Bruce: The company I worked for, Fedsure, went into liquidation after a year and as part of the payroll team, we "switched off the lights". It was the first and last time I would be retrenched. I decided that day to never work for someone again.
How did you get your business off the ground financially – did you have investors etc.?
We used a bootstrapping model which means we required no capital funding from investors. We started PaySpace after hours, while we kept our day jobs.
Working part time was draining and slow but we could not afford to all resign and suddenly start working on our dream, we needed to be realistic. So, we figured the best solution would be for Clyde to be the full-time employee in terms of development capacity and get things off the ground and the rest of us would continue to do consulting work and meet after hours to spec, develop, assist and plot the way forward.
We all managed to convince our then employers that we would consult back to them and invoice them through our newly formed company rather than continue as salaried employees.
There was then pooled consulting income flowing into PaySpace and we paid ourselves equal salaries. As the business grew, one by one we started working for PaySpace full time.
Is it possible to have a good work-life balance and be a successful entrepreneur? Has your attitude towards this changed since you've been running your own business?
Clyde: Yes, it is possible. You just have to put the correct resources in the correct roles and trust them to do their jobs. My attitude has not changed towards this at all.
George: Absolutely. One of the shared core ethics that we've adopted from the very beginning is to get this balance right. The advantage we have is that we all come from similar backgrounds and have the same value systems and we often slap and encourage each other into gear from an overall life perspective.
Warren: Yes, but you need to decide how much balance you wish to dedicate to the various aspects of one's life to achieve a balance that has the desired results. For example, we could work 18 hour days to achieve success in a shorter timeframe but in doing so totally neglect our family. We place a big emphasis on family and therefore we work 8 hour days in order to see our family. The downside of this is that it takes longer to realize a goal, but we are ok with that as the reward of owning and running a successful business and seeing gradual and consistent growth is good enough an achievement for us, plus we have a healthy family environment – bonus!
Bruce: Yes, with the support of the partners, wife, family and a shared vision this was one of the original goals and a non-negotiable. We insist on taking time out to focus on the important things in life like family and health.
Xero's State of SA Small Business research identified the top three biggest challenges to launching a business, how did you overcome these?
Competition
PaySpace is unlike the legacy on-premise systems which require annual licensing fees and are costly to maintain. For the first time a cloud-based payroll & HR solution was introduced into the market that was and still is the core differentiator along with a difference in approach to processing, niche features and service. PaySpace customers pay per pay slip and that customers can access their software and information anytime, anywhere in the world with no software required. All you need is an internet connection and browser.
Access to funding
Our bootstrapping model ensured that we were debt free from the outset and required no capital funding from investors meaning we retained our 100% ownership.
Marketing your business
In the beginning, we tried billboards, street pole ads and various other above the line marketing channels. Online digital channels however always proved to be a better return on investment. Word-of-mouth is still equally important and grew as the client base grew. Differentiating features in the system were delivered which provided a powerful message in all our marketing efforts.
Happy Global Entrepreneurship Week! PaySpace wishes every entrepreneur, start-up, and growing business all the best. #GEW2016