PaySpace is a leading global cloud-based payroll, HR and technology company and our aim is to attract and retain top payroll & HR talent with a passion for technology.
We rely on our people to drive our growth and one of our competitive advantages is the calibre of we people we recruit.
Current Positions Available: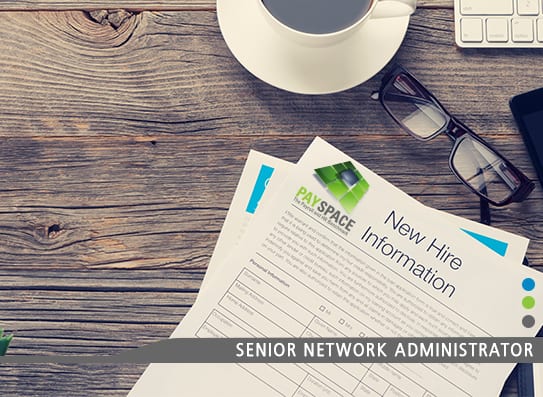 Senior Network Administrator
Location: Blackheath, Johannesburg Based
Purpose: To administer our internal network, pc's and our hosting environment setup.
Qualification Required: Certificate or higher in network administration
Minimum Experience: Minimum 3 years' experience working within a similar environment
Package:  Market Related
Duties and Responsibilities:
Maintain and administer computer networks and related computing environments, including computer hardware, systems software, applications software, and all configurations. The core ones where similar experience is mandatory include 3CX pbx software, Neotel VOIP and bandwidth, Active Directory and Azure Directory and Peplink Routers.
Diagnose hardware and software problems, and replace defective components.
Perform data backups and disaster recovery operations.
Plan, coordinate, and implement network security measures in order to protect data, software, and hardware.
Operate master consoles in order to monitor the performance of computer systems and networks, and to coordinate computer network access and use.
Perform routine network startup and shutdown procedures, and maintain control records.
Design, configure, and test computer hardware, networking software and operating system software.
Recommend changes to improve systems and network configurations, and determine hardware or software requirements related to such changes.
Confer with network users about how to solve existing system problems.
Monitor network performance in order to determine whether adjustments need to be made, and to determine where changes will need to be made in the future.
Train people in computer system use.
Load computer tapes and disks, and install software and printer paper or forms.
Analyze equipment performance records in order to determine the need for repair or replacement.
Maintain logs related to network functions, as well as maintenance and repair records.
Research new technology, and implement it or recommend its implementation.
Maintain an inventory of parts for emergency repairs.
Coordinate with vendors and with company personnel in order to facilitate purchases.
Interested in any future positions?
Want to submit your CV for future consideration?
Follow the link to email your CV to our HR Department
We believe in developing people as we believe their significant contributions are as a result of our continued success. We have a best in class graduate programme. Become the best you can be by applying for a graduate position at PaySpace and be placed on our Graduate Development Programme. PaySpace offers graduate positions in the fields of payroll, IT Development, finance and more in Cape Town and Johannesburg.
What our employees have to say about working for us.
As a developer, I love working at PaySpace because the product is constantly evolving and growing. There are always interesting challenges in creating and maintaining the product we give the client. This offers chance for skills development for the developers.
Best company to work for! Dynamic, energetic…definitely a preferred employer!

Innovative, Exciting, Family Environment.
As the Human Resources Manager for PaySpace, I love working for PaySpace as it offers its employees a platform to grow and develop, always with the support and guidance of our Executive

I enjoy working at PaySpace because the company has the same outlook as I do in my private life and it is best summed up in these two quotes. "Do not wait to strike till the iron is hot, but make it hot by striking." – William B. Sprague and "Don't ask yourself what the world needs, ask yourself what makes you come alive. And then go do that." — Howard Thurman